We offer well-fitting, light and comfortable safety helmets from the market's leading manufacturers, for optimum comfort and safety. ​​​​​​​
Safety requires collaboration
Most safety helmets can also easily be adapted to our visors and hearing protection and delivered with a wide range of additional equipment and spare parts.
Safety helmets can be divided into four categories based on the type of risk they protect against:
Mechanical risk

: Falling objects and crushing hazards.

Electrical risk:

Contact with electrical wiring and installations.

Molten metal risk:

Contact with hot or molten metal.

Explosion risk:

Working environment with a potential explosion risk.
Type of head protection and norms
Industrial safety helmet (EN 397):
Protects the user's head against falling objects that can cause head injuries. Consists of helmet shell and interior, and has either a short or long brim depending on the type of work to be carried out. According to the standard, the helmets must be tested for shock absorption for falling objects and protection against penetration by sharp and pointed objects. Safety helmets may also have optional tests for additional types of risk such as very low temperatures (-20°C or -30°C), very high temperatures (+150°C), electrical insulation (440 VAC) and molten metal (MM).

Klatrehjelm for arbeid i høyden (EN 12492):
Protects against dangers that may arise for mountain climbers while working at height. Climbing helmets are also tested for falling objects and penetration. The chin strap is a requirement and must not be released with a force of at least 50 kN. Climbing helmets must also be ventilated.
Electrically insulated helmets (EN 50365):
Protection against electric shock when used when working under low-voltage installations such as alternating voltage of up to 1000 V (alternating current), or direct voltage of up to 1500 V (direct current). All helmets must also meet the requirements in accordance with EN 397. Insulating helmets must not contain any conductive parts. The ventilation openings (if available) must not be able to accidentally come into contact with live parts.

Light industrial safety helmet (EN812):
Light helmet, shock cap or bump cap consists of a cap with protective inserts, and protects the user's head against light impacts. Can only be used in a working environment where there is no danger of perishable objects. Bump caps provide good ventilation, great flexibility and protection against minor bumps and scratches to the head.
Lifetime of the helmet
The production date of the safety helmet can be read on the underside of the safety helmet's brim, and shows the month and year of production. The service life of a safety helmet will vary depending on external influences such as shocks, blows, sunlight etc. and how often it is used. If you rarely use the safety helmet, it will last a good while. Otherwise, the usage time will be significantly shorter if you use the helmet in rough conditions every single day. Then you usually operate with up to 2 years of use. The maximum usage time of safety helmets varies in relation to different brands. Therefore, check the user manual that must always accompany the helmet.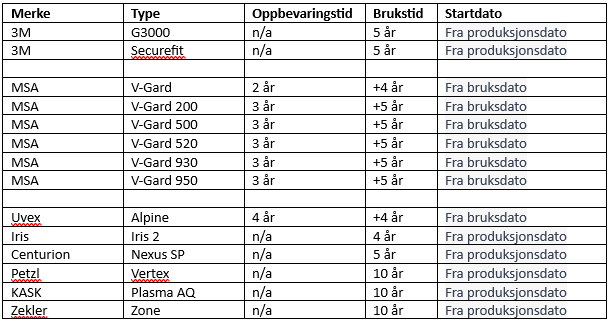 Storage and maintenance of the safety helmet and equipment
The helmet must be stored dry and out of direct sunlight. The helmet, interior and sweatband should be cleaned regularly using a mild detergent in warm water. The lifespan can be increased by periodically changing additional equipment such as the interior, sweatband and chinstrap.
How to choose the right safety helmet?
The use of safety helmets is well implemented in workplaces around Norway. However, choosing the right safety helmet is absolutely crucial, and not always easy.​​​​​​​
We have a large selection of safety helmets from different suppliers. Among others 3M, Petzl, KASK, MSA, Iris, uvex and Centurion. There are also several different varieties, models and colors. Do you need a safety helmet with ventilation? This will come in handy if you work in a hot working environment and do not need a safety helmet with antistatic properties and protection against voltage. However, if you need it, you should choose a safety helmet that is unventilated and has protection against exactly this. Several relevant aspects to think about when choosing a safety helmet are, for example, chin strap, shoe decoration, brim at the front and gutter at the back.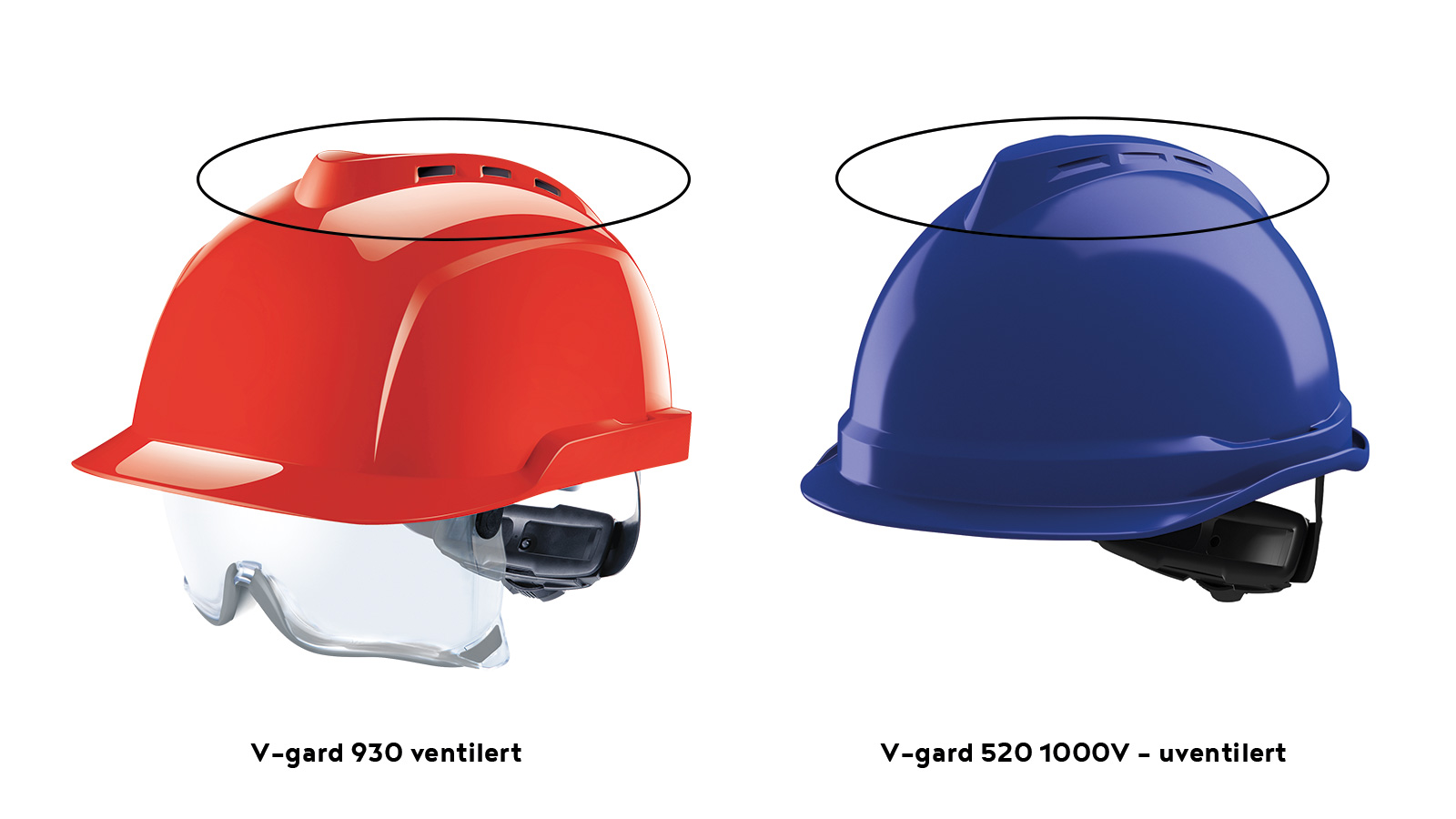 It is often necessary to have various additional equipment for a safety helmet. Hearing protection and visors are good examples of something that is often used. In addition, the additional equipment for the protective helmet must be adapted to the work environment the helmet will be used in. Wenaas has a wide selection of protective helmets and additional equipment, and will ensure that you always get the protective equipment you need. Perhaps a safety helmet with built-in eye protection is the right thing for you? Good availability of eye protection seems to contribute to a decrease in the number of eye injuries - which is very good.
Eye protection
Eye protection and safety goggles of different types are a necessity for many professional groups.
Fall protection
Working at heights is the riskiest form of work one can do.
Work light
Wenaas has now expanded the range with Nightstick lamps and work lights