Wenaas has now expanded the range with Nightstick lamps and work lights for you who work in dark​​​​​​​
Your work environment is dependent on light
One of the most important factors for you to be able to perform your job in a safe, sound and efficient manner is that you have good enough work light for the task. Wenaas has now expanded the range with Nightstick lamps and work lights for you who work in dark, cramped, difficult and dangerous environments where you need your hands free for you to be able to do your job.



The world's first rechargeable ATEX Zone 0 headlamp
This flashlight, XPR-5562GX DICATA, is a powerful rechargeable Cree LED headlamp. It has headbands that can be adapted to most helmets and visors that make this headlamp very versatile. The lantern's slim design means that it does not conflict with the fitted visor when the visor is tilted. It is very user-friendly with large buttons which means that you do not have to take off your gloves to make adjustments.
The lamp is certified for use in explosive work environments, ATEX / IECEX zones 0, 1 and 2, and it is waterproof / dustproof according to IP-67. These two properties make the headlamp very suitable for work where other lights and work lights cannot be used or eventually fail.

The headlamp can be charged without removing the battery, using a MAGMATe magnetic charging cable. Attach the magnetic cable to the waterproof charging port and connect it to any USB adapter. Up to 15 hours run time. Operating time depends on the mode in which you use the headlamp.

Mode & Lumen
This headlamp has 5 modes and a full 300 lumens at the strongest level:
High spot light

Low spot light

High floodlight

Low floodlights

Dual-Light ™ (use of both light units on the headlamp)
300 lumens

3,660 candela

Runtime 5 - 15 hours depends on which mode you use

Li-ion battery

120 m range

Weight 164 gr.

Lifetime warranty (see terms)

Classification: Ex II 1 G Ex ia IIC T4 Ga
Lumen is referred to by "Lm" and tells you the amount of light produced versus watts (W) which tells how much energy is used.
The lumen thus measures the light from lit bulbs that shine. One high lumen number gives a lot of light and conversely, a low lumen number gives little light.
Many of us are perhaps most familiar with watts. A smart rule is to be able to multiply the number of watts by 10 to get approximately lumens.
Candela is referred to by "cd" and tells one about the unit of measurement for light intensity. This value thus tells how strong the light is straight ahead, and thus also tells about range (throw length). The higher the CD that is entered, the longer the range. We have, for example, a lamp that has 200 lumens (lamp XPR5568) full beam with a candela of over 40,000, which is very good. The light gives a great halo and has a dense, bright center. The reflector is designed to scatter the light (lumen) into the dense center. This creates a better light beam. It looks brighter. Candela tells about how bright the light is. Often one focuses on the lumen and buys product based on it. But candela actually tells more about the quality and strength of the lantern, than what the lumen does.


If you buy the flashlight, it comes with a rechargeable Li-ion battery, strong rubber headband and charging cable with magnetic attachment.
More products from Nightstick can be found in our online product viewer, take a look:
SMALL, SMART FLASHERS WITH POWERFUL WORK LIGHT
Sometimes it is not practical to have a large flashlight or a flashlight on the helmet. Then our small flashlights can do the job of lighting up for you.
MOVABLE WORK LIGHT WITH POSSIBILITY FOR DIFFERENT HEIGHTS
A powerful but light and portable rechargeable LED work light. Powerful integrated magnet on the base for easy and safe mounting on surfaces. Can be tilted and rotated 360°.
Floodlights

1,000 lumens in 4 h, 500 lumens in 8 h.

Waterproof / dustproof IP-67

Drop height 2 m

Shockproof Lamp 5592GX
This lightweight work light has a chemical-resistant, heat-resistant and impact resistant design and the battery is rechargeable. It also comes in two different variants: With or without tripod.

The lamp is
certified for use in explosive work environments, ATEX / IECEX zones 0, 1 and 2.
This is also waterproof/dustproof according to IP-67.
Technical data
1200 lumens

Battery life 6 - 12 hours depends on the mode you use.

120 m range.

Weight 1.9 kg

Chemical and heat resistant

Impact resistant design

Lifetime warranty (see terms)

Classification: CLASS I DIV 1: GRPS A-D T4, CLASS II & III DIV 1: GRPS E-G T135 ° C, CLASS I ZONE 0: Ex ia IIC T4
The lamp itself can be tilted and rotated 360 degrees for optimal positioning and mounted using a very strong magnet.
If you buy the work light, it comes with a carrying handle, rechargeable Li-ion battery, AC / DC charger, solid storage box, 5 powerful covers. 6" tripod stand is included in one edition.
Contact us if you want more information or to buy this nice work light.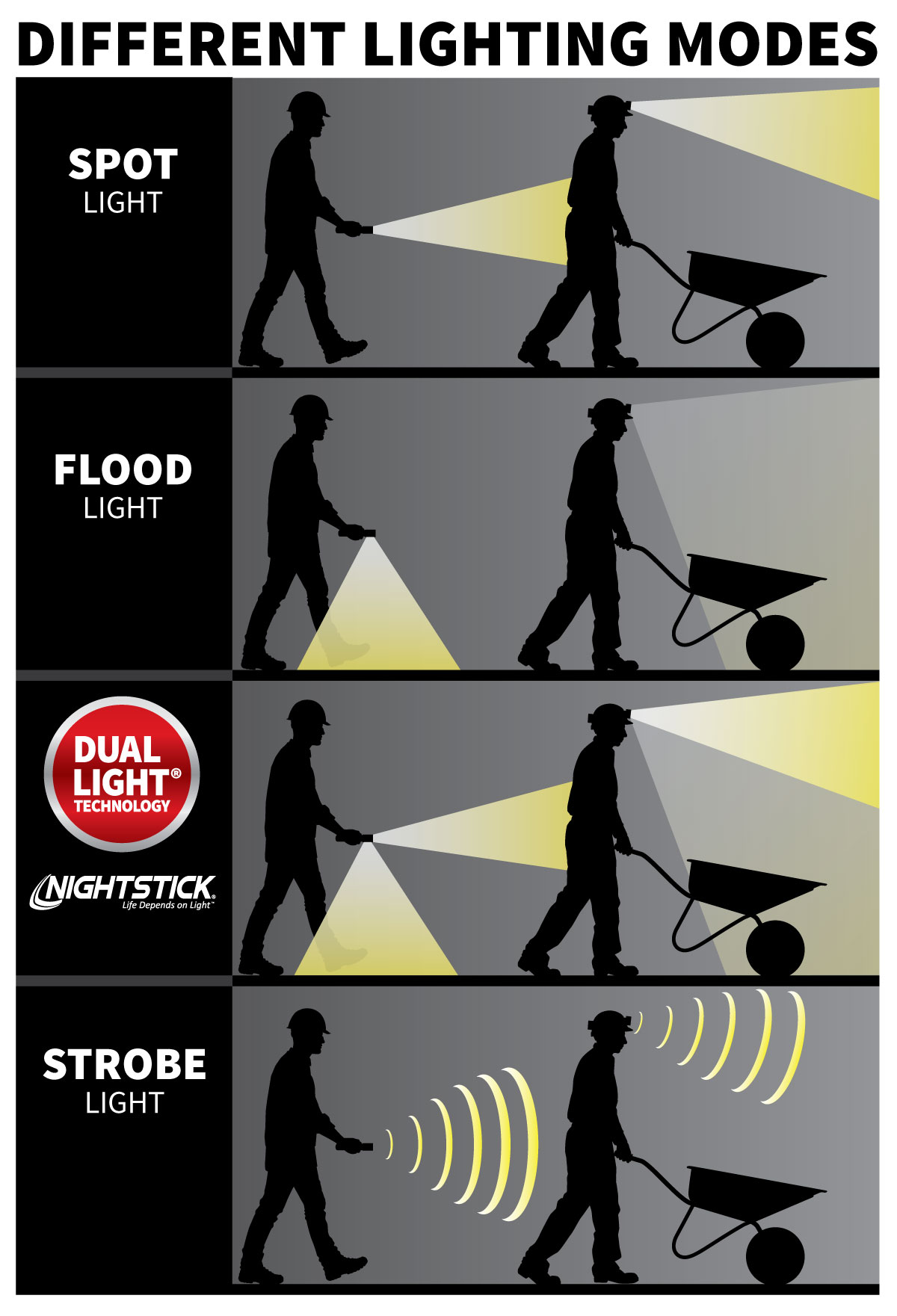 Do you need this overview at your work?