Product is added to basket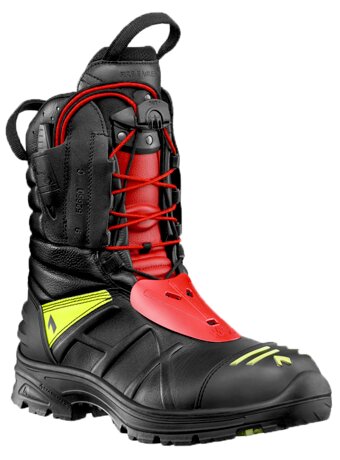 Wenaas
Fire Boot Fire Eagle Pro
Lightweight and comfortable ESD-approved fire boots with level 1 saw protection. Upper material is waterprrof grained leather. Anti-glide and comfortable outer sole in rubber/PU that is antistatic, oil- and heat-resistant. The bright yellow line on the sole is
... Show more
Lightweight and comfortable ESD-approved fire boots with level 1 saw protection. Upper material is waterprrof grained leather. Anti-glide and comfortable outer sole in rubber/PU that is antistatic, oil- and heat-resistant. The bright yellow line on the sole is visible through thick smoke. Waterproof and breathable with Crosstech® membrane. Patented lace system for quick and optimal lacing. Provides protection against blood, bodily fluids, bacteria, virus and chemicals. Good support, composite toe cap and metal anti-puncture protection with TPU protection. Name tag for personal identification. Removable insole in fleece absorbs humidity.
Show less
Color: Black
Classifications
... Show more
Fire Boot Fire Eagle Pro
Technical
- Saw protections level 1. - ESD-approved. - Waterproof leather. - Water-proof and breathable lining. - Quick lacing system. - Anti-glide outer sole. - Antistatic. - Heat- and oil-resistant. - Good support. - Composite on toe cap. - Metal anti-puncture protection with TPU protection. - Insole absorbs humidity. - Removable fleece insole.
Material:
Upper material: Full grain leather. Outer sole: Rubber/PU. Puncture resistant mid-sole: Soft. Lining: Fabric - Crosstech®. Protective toe cap: Composite.
Classifications
EN 15090 - Footwear for firefighters

EN 17249 - Safety footwear - chain saw

EN 61340 - ESD Static electricity discharge

Footwear - Protective toe cap

Footwear - FO Oil resistance outersole

Footwear - E Shock Absorption in heel

Footwear - WRU Water resistance of upper

Footwear - P Perforation resistance

Footwear - CI Cold Insulated

Footwear - M Metatarsal protection

Classification info

EN 15090:2012, F2A HI3 CI M ESD SRC
Downloads