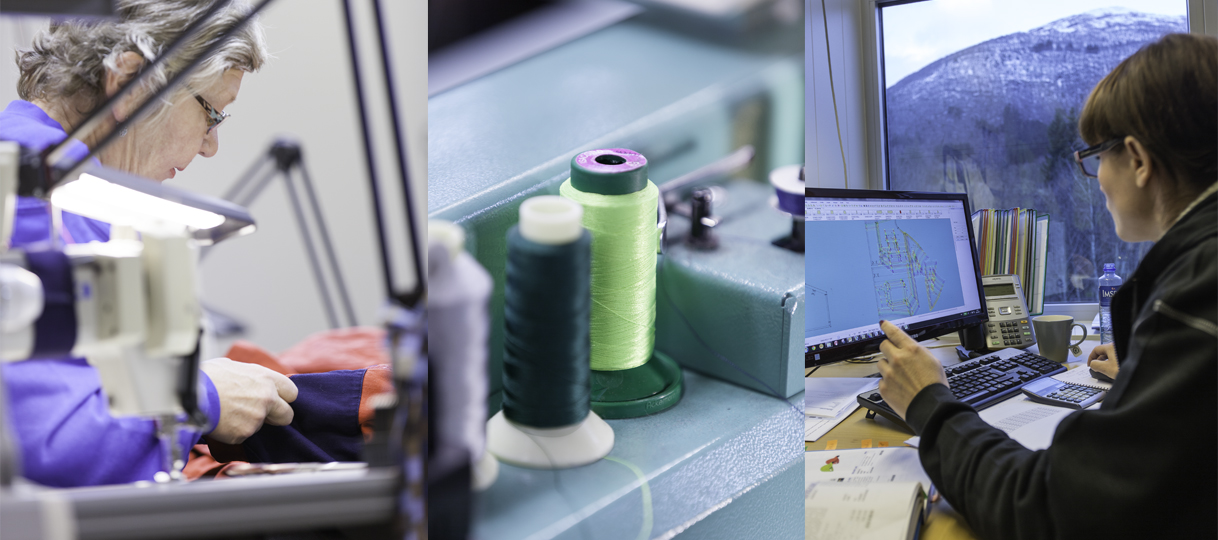 Development of protective equipment demands broad insight and skills
The workwear of today and, in particular, tomorrow are highly advanced products. Wenaas has built a professional environment in this area which is unparalleled in the Nordic region. It comprises product expertise, skills in patterns and design, textile engineering, production, logistics and sales, implementation of major deliveries and contracts, and close working relations with customers – including follow-up. Wenaas owns and operates the entire value chain from initial idea to product development and distribution. As a result, we can supply flexible solutions and products, and we always deliver to the agreed time.
Close working relationship for safe, comfortable workwear

Our product developers work closely with the people who actually use our products, and are represented in several HSE committees, user groups and reference teams. We maintain a close dialogue with raw material suppliers, which puts us in a position to influence their development to meet new demands, at the same time as providing us with first-hand knowledge of what is available in the field of workwear, flame-retardant clothing and equipment, and other protective equipment on the market. This form of direct innovation, combined with our specialist skills and unmatched head-to-toe range, has made us a market leader in Norway.
Close working relationship with users, research environments and the industry
Our product developers work closely with users and are represented in a number of HSE committees, user groups and reference teams. We maintain an ongoing dialogue with other manufacturers, and can therefore influence their development in relation to market needs, at the same time as gaining access to first-hand knowledge about what is available on the market. In addition to running our own tests and assessments, we also have access to some of the most highly respected test laboratories. For example, we run our research and innovation in partnership with the SINTEF research organisation. In the field of protective equipment, we also work closely with some of the biggest players and most highly regarded brands on the market.
Efficient complete solutions for ordering clothing and equipment
Wenaas has developed complete ordering and logistics solutions that give our customers access to the most cost-efficient ordering and delivery process on the market. For example, we operate webshop, container and floor-stock solutions. Wenaas employees are dedicated and highly knowledgeable in their own fields and with regard to our complete solutions. We have the requisite expertise and skills, and we are happy to provide advice with a view to finding the optimal solution and ensuring that the equipment is used and maintained correctly. Our mission is to bring all our skills to bear in helping to protect people at work. We know that our products can mean the difference between life and death, and we never compromise.