Are you considering hiring Wenaas to help you create a company uniform in accordance with your employees' needs to functionality, identity/profile and comfort? Let us tell you a little about our previous projects; we would be more than happy to provide you and your employees with our comfortable and characteristic uniforms.

Posten Bring is a company with many employees in several jobs with different clothing needs. In cooperation with Snøhetta, Wenaas has created their uniforms with a streamlined collection.
The different professions at Posten Bring used to have their own separate uniform collection. Now they wanted all the different groups to have the same uniform. It was therefore extra important to coordinate and maintain all the user groups' needs for solutions in terms of the uniforms.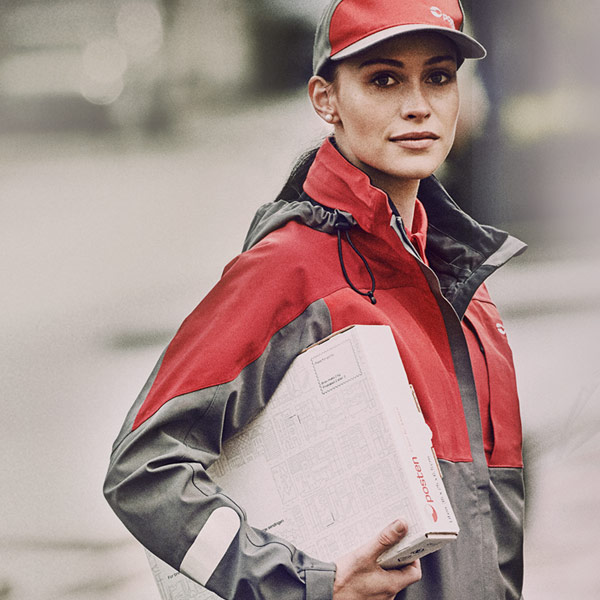 With a brand new uniform for all the employees at Posten and Bring in the Nordics, the company has streamlined the product portfolio and no longer has to coordinate the products within each professional group. We wanted to create a new, modern and clean design that reflects both Nordic attitudes and the company profile. We use new technology and qualities in the textile market to recreate the layer on layer principle similar to the technique used in sports sector. This contributes to reduce the number of garments in the collection. Quality and durability was also decisive, which again is key in terms of environmental concerns.
After sorting, reducing and clarifying the number of garments in the collection, the qualities, functions and technical solutions were clarified. The design of the products was developed by compsring the products to the design programme and after feedback from the users. New cost analyses were compared against the existing costs to show the reduction in the total costs. The new collection was broadly tested and after some adjustments the collection was launched in the Nordics in the autumn of 2017.

To celebrate KIWI's 40th anniversary, the company wanted to give all their 13,000 employees new uniforms. This is where we came in.
Together with the designer Frank Remme, we designet KIWi's new durable, user-friendly and functional uniform. The result was a wonderfully sporty uniform that the employees wear with pride and self-assuredness. It is important to KIWI to encourage the employees and they are conscious of the fact that each colleague is the shop's representative. A satisfies KIWI-employee radiates a sense of pride that is communicated to satisfied customers.
Uniforms to reflect values
Wenaas led the uniform project from the start together with a project group from KIWI. We received a designer brief in which KIWI outlined what their company values are.
They wanted the next generation uniform to reflect these values and motivate and encourage their colleagues so that they would wear their uniform with pride and self-assuredness. It should also be functional and comfortable.
The uniform should have a clear KIWI profile and be innovative in terms of design and choice of materials.

In the design phase, we worked with designer Frank Remme and early on came to the conclusion that we wanted a sporty uniform that reflected the current trends. Remme chose to build on technical qualities based on durability, user-friendliness and functionality.
It resulted in a collection consisting of breathable wool and comfortable trousers in polyester/elastane that provide maximum moveability. KIWI has gone all in and uses wool from Devold® and fleece from Polartec®. The collection was tested by a group of friendly KIWI employees in a selection of shops. The concept as a whole received overall positive feedback and only minor details were changed, which improved the functionality of the garments.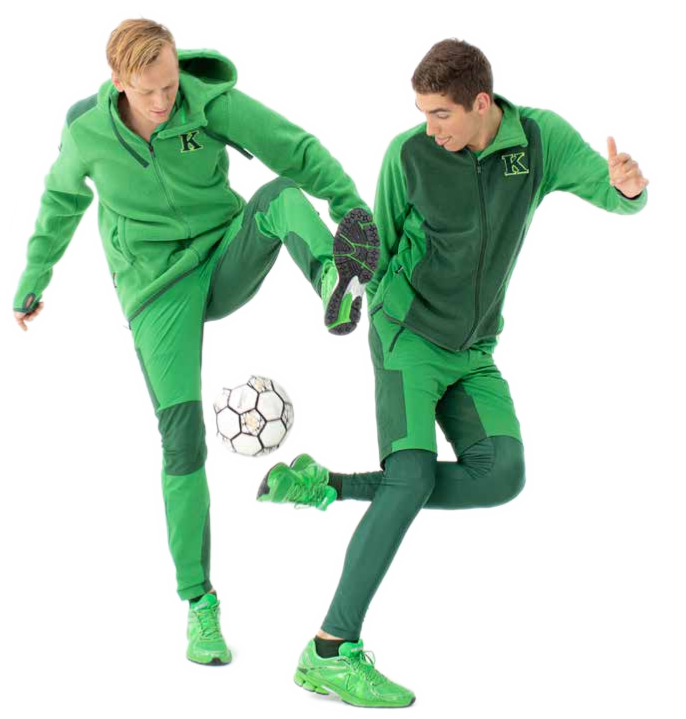 Case: Vy - uniform for buses and trains
Together we have created a uniform our people are proud of.
"The most important thing for us was to make a uniform that was comfortable, functional, of a high quality that the employees wear with pride."
Over 8,000 Vy employees in Norway and Sweden wear uniforms from Wenaas. The uniform is a result of a close and successful cooperation between Vy and an external designer.
"We are very happy with the results and think the uniforms are great," says Nina Tøgård from Vy.
Getting the employees involved
We have also managed to involve the employees in the process. In cooperation with Wenaas, we have carried out user surveys and carried out interviews of the employees. It is very important for Vy to make sure the employees' needs are heard and taken into account in this process.
- With 8,000 people who wear a uniform both on buses and trains, it has been a challenge to meet everyone. But we have chosen a collection with many different styles and fits to ensure that most people would be able to find something suitable. The garments have been made to fit most people, and Wenaas and the designer have given us some advice as to what we should be looking out for.
"Their experience and expertise makes the order process and logistics efficient and seamless," says Nina. Vy has for instance chosen to make trousers available in four different lengths for each size, both to men and women. It gives everyone an opportunity to choose and ensures that people don't have to tailor the uniforms too much.
Environmental concern is important
"In the process, we have chosen to emphasise good quality and better comfort. We are also a company that wants to contribute to a more sustainable future, and it is therefore important that the uniform is durable. The employees should have a uniform that allows them to do the job. Wenaas' guidance in this process was much appreciated.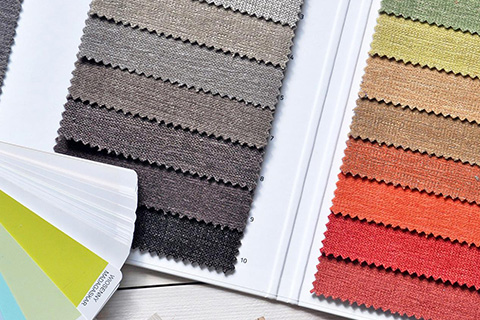 Our focus
Sustainability, design and quality is key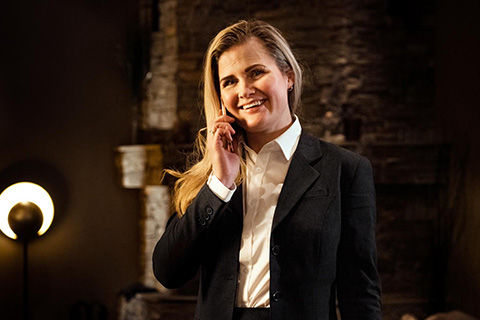 Uniform
Standard or designed uniform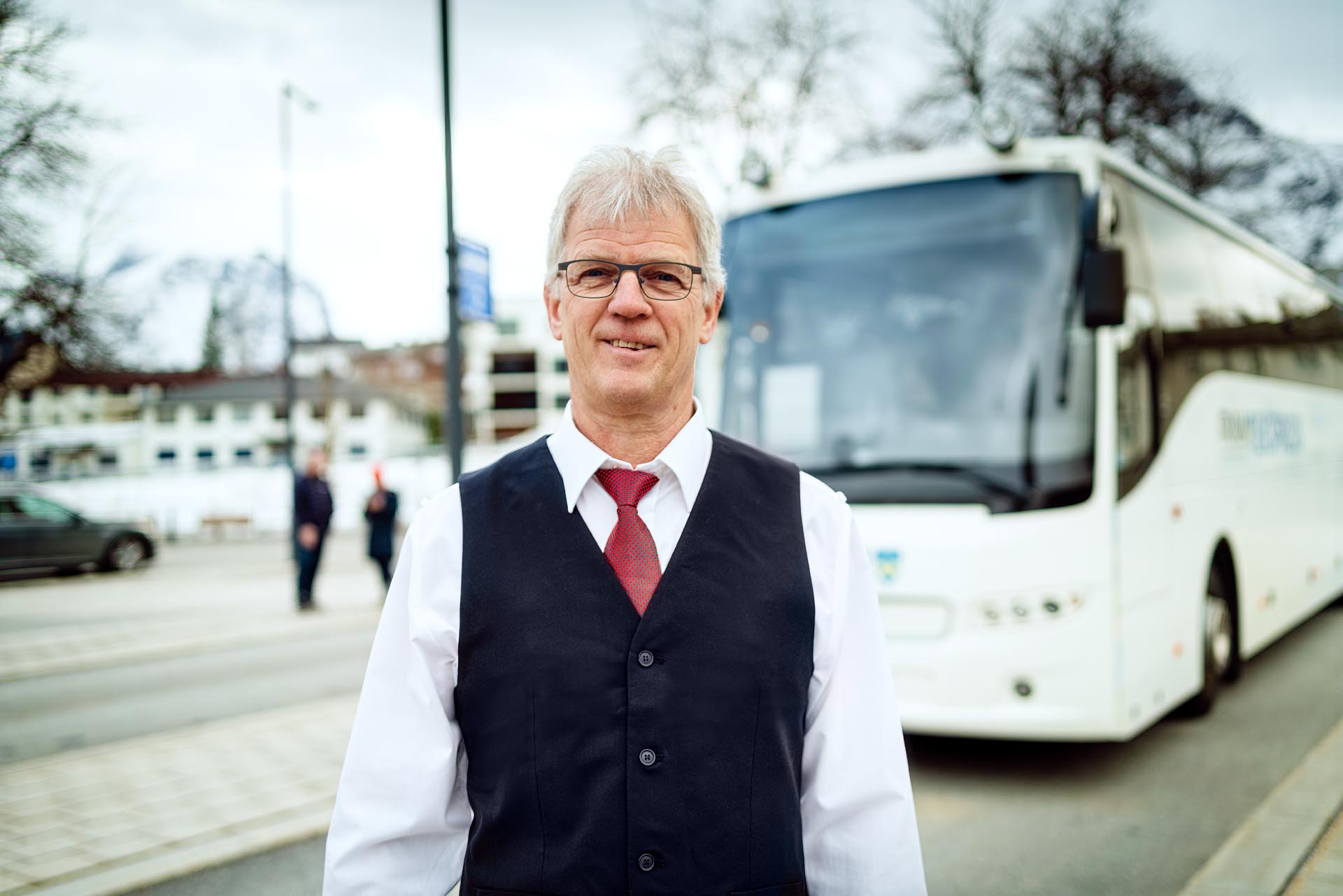 Standard men's and women's uniform
Our uniforms come in three colours