Respiratory protection equipment and corona
Transmission of corona – and the need for protective equipment
It is believed that transmission between humans mainly occurs through droplet transmission - via respiratory droplets which are spread when the infected person coughs or sneezes. This occurs in the same way as with influenza and other respiratory viral pathogens and bacteria. In general, infection is transmitted between people who have been in close contact with one another.
Corona and protective equipment are therefore - unfortunately - undeniably connected.
Corona and protective equipment
Wenaas sells breathing protection that is designed, certified and approved for industrial use. Our products are intended to protect the user from harmful substances in their respective working environment and surroundings. This applies to substances such as dust, chemicals, gases, toxic particles, etc. Our products do not protect the surrounding environment from infectious agents generated by the wearer.
Products manufactured for use in health (medical supplies) have completely different requirements for approval - such as sterility, being latex-free and having complete traceability of raw materials at the batch level. Respiratory protection for sterile health care environments is designed to protect the user and the surrounding environment, including patients, from potential infections generated by users.
Do you have questions about corona and protective equipment? Contact us!
Here we have gathered all our tips and advice in connection with infection control, corona and protective equipment - as well as other relevant information regarding the corona pandemic.
The 2019 Novel Coronavirus (2019-nCoV) is a virus that the World Health Organization (WHO) has identified as the cause of the outbreak of respiratory disease known as "Corona". The coronavirus (CoV) is a virus not previously detected in humans.
Here is some basic advice and recommendations from the WHO to reduce the generalrisk of transmission of acute respiratory tract infections:
Avoid close contact with people suffering from acute respiratory tract infections.

Wash your hands frequently, especially after you have been in contact with sick people orthe surrounding environment they have been in.

Avoid unprotected contact with farm animals and wild animals.

People with symptoms of acute respiratory tract infection should take special precautionswhen they cough (keeping away from others, coughing and sneezing into a disposable tissue orclothing, as well as washing their hands).

Standardised infection prevention and control procedures for hospitals must be followed at health institutions,especially at accident and emergency and using the out-of-hours medical service.
Frequently asked questions related to corona and protective equipment:
What kind of masks protect against viruses?
Reusable full face and half face masks and regular P3 dust masks protect against viruses. Only mechanical P3R filters can be disinfected. This does not apply to anti-static P3 filters.
Can people who are sick use respiratory protection in order not to infect others?
No. The vast majority of respiratory protection - both disposable and reusable masks - have an exhaust valve to provide as little breathing resistance possible as you exhale. This valve lets the air straight out without filtration. Only the air you breathe in is filtered. The respirator thus only protects the wearer and not the people around them.
Can you disinfect disposable masks?
No. There are no approved methods for disinfecting disposable masks, as these are only intended to be used and disposed of.
How can you disinfect reusable full face masks, half face masks and P3 filters?
This is done by using a cleaning cloth and disinfectant spray.
How can you disinfect fan-assisted respiratory protection?
Fan-assisted respiratory protection should firstly be cleaned with soap and water, and then sprayed with disinfectant spray (isopropanol or ethanol). The hose between the fan and headset should be wiped on the outside with detergent and a rag, and then sprayed with disinfectant spray.
The particle filter used in the fan is of the P3R type. These can be disinfected by putting in a disinfecting bath for 5 minutes.
NB: Only P3R mechanical particle filters can be put in disinfectant. Gas filters and combination filters cannot be disinfected. The filter can also be quickly dried in a heating cabinet - at a maximum of 40 degrees.
Which disposable or protective suits should be worn?
With regard to corona and protective equipment, and for those who work with infected patients in the health care system, we recommend suits of type 3, 4, 5 and 6 - with taped seams. These offer the highest form of protection. Tyvek 800J is one example.
In areas where lower protection is sufficient - and where taped seams are not necessary - we recommend type 5 and 6 suits. These are certified according to EN 14126 (protective clothing against infectious agents). One example is the Tyvek 500 Xpert.
What transmission control measures do you recommend for companies that rely on the use of respiratory protection in daily operations?
We recommend stricter cleaning and disinfection procedures and, if possible, the introduction of personal protective equipment. This means that the same equipment should not be used by several people.
Corona and protective equipment - what is the delivery situation now and in the future?
With regard to corona and protective equipment, Wenaas and other suppliers have a major challenge with deliveries of disposable masks, half and full face masks, visors, goggles and disposable suits. There is a growing need for these products in the healthcare trusts, and we encourage companies to offer their local hospital disposable equipment that they can do without themselves.
In connection with corona the global market for protective equipment is under severe pressure, and manufacturers are working hard to produce the best possible equipment. We are doing everything we can to be able to deliver protective equipment, but long delivery times must be expected for some of our products.
What should we do if we run out of disposable dust masks?
In these cases we recommend switching to reusable masks with mechanical P3R filters. These masks, including filters and pre-filters, can be disinfected several times daily - and used for 180 days.
A reusable mask with one associated filter therefore corresponds to 720 disposable masks. Only mechanical P3R filters can be disinfected. This does not apply to anti-static P3 filters.
Contact us for further information in connection with corona and protective equipment.
Safety helmets
We offer well-fitting, light and comfortable safety helmets from the market's leading manufacturers,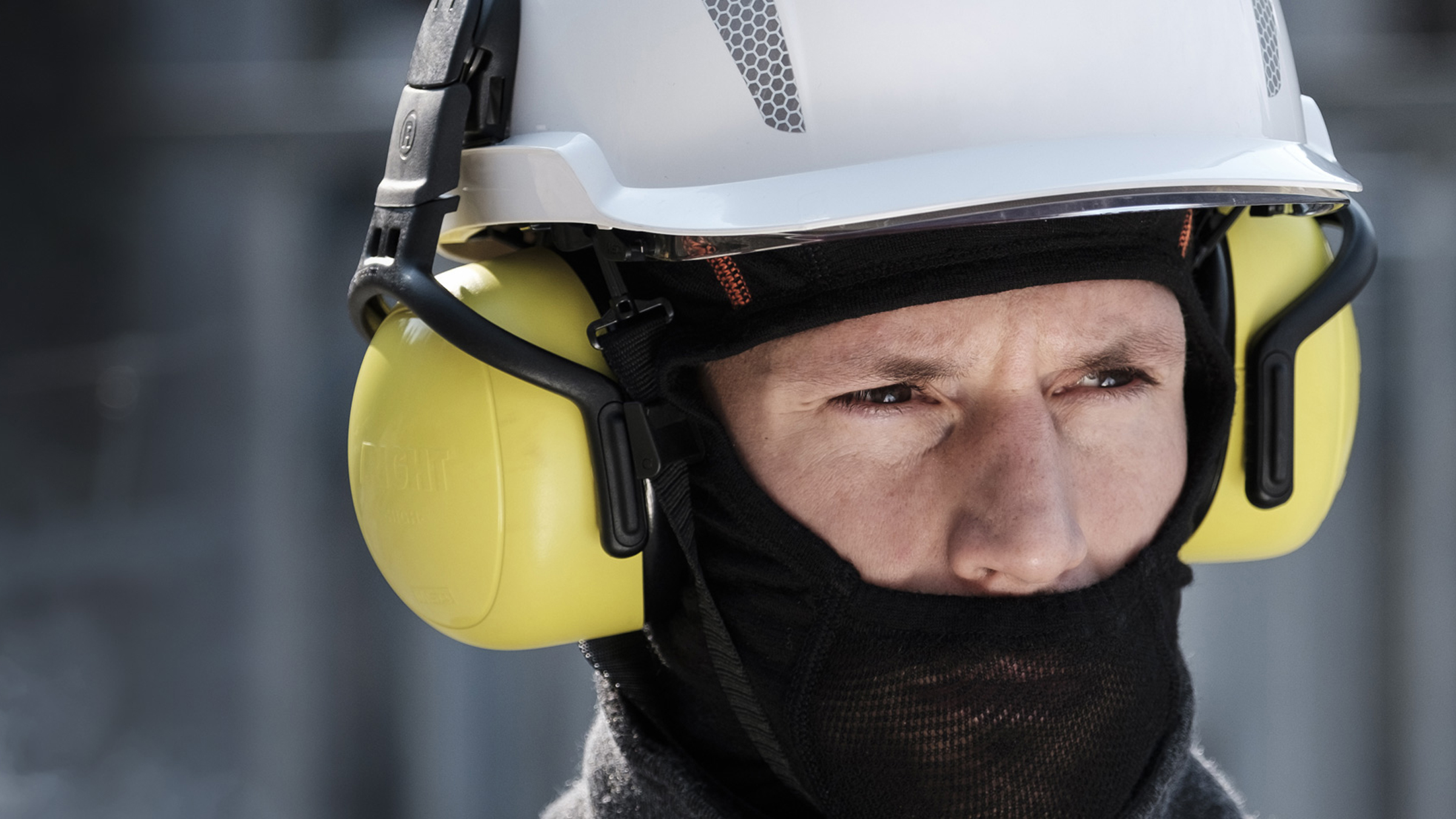 Hearing protection
We offer a wide range of hearing protection and ear defenders capable of ensuring that the recommended noise level is maintained.
Respiratory protective equipment
Airborne pollution in the form of gas, vapour or hazardous particles can damage the lungs and other vital organs and cause the person exposed to develop asthma or allergies.